Benefits
The benefits of Digital Transformation are clear. Nio simplifies the entire process to provide a complete solution.
One Platform to digitalize your entire business

Consulting, Onboarding, Training and 24/7 support for your employees

A low fixed monthly subscription fee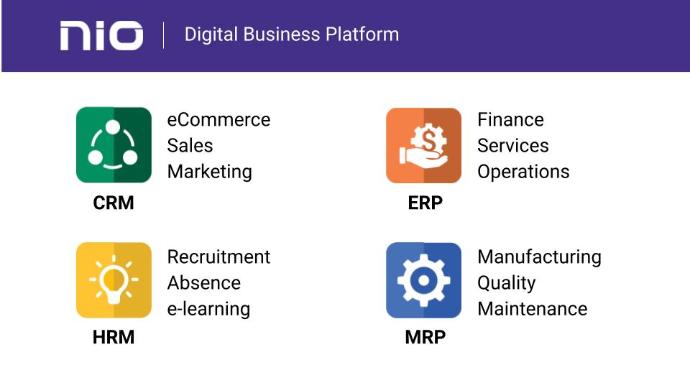 Overview
Digital Transformation or Digitalization is about getting all of your employees and processes online with your business digitally connected to your customers, partners and supply chain.
Nio provides modern, easy to use apps for all aspects of your business - CRM (e-commerce, sales and marketing), HRM (talent and workforce), ERP (service, operations and finance) and MRP (manufacturing & maintenance) all on a secure, integrated cloud platform.
Nio is cloud-based, so it's ready to adopt without needing any additional hardware as it runs on any computer, tablet or smartphone.
Solutions

In order to digitalize your business, you need a platform where all of your customers, managers, employees and partners can interact with you securely across all channels - video-conference, phone, email, social media, e-commerce, mobile app, in store and in person.
Nio provides modern, easy to use apps that connects all aspects of your business:
Lange Trinidad

"Nio were able to outline and demonstrate a solution for our needs and then prepare a road map for the digitalization of specific divisions in our company. Through their professionalism there was quick buy-in from our team, even in the face of a major shift in their daily operations, thus allowing us to progress along the planned timelines to achieve our goals."
AP Scott Trinidad

Nio Cloud Solution including Websites, eCommerce, Inventory, Sales, Employees and E-learning apps

Cellmaster

Nio Cloud Solution including POS, Inventory, Employees, E-learning, Helpdesk apps and integration with Microsoft Dynamics