The benefits of Digital Transformation are clear. Nio simplifies the entire process to provide a complete solution.
One Platform to digitalize
your entire business

Consulting, Onboarding, Training
and 24/7 support for your employees

A low fixed
subscription fee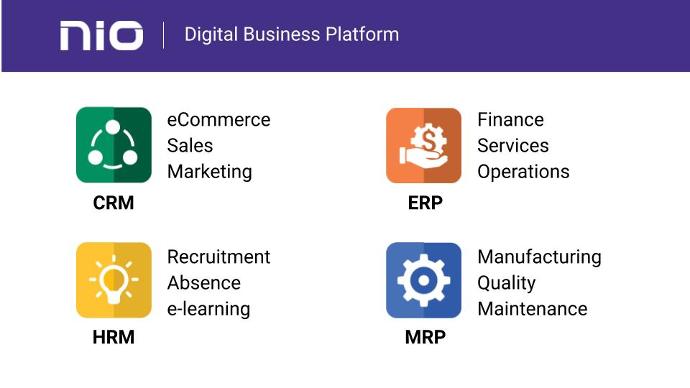 Overview
Digital Transformation or Digitalization is about getting all of your employees and processes online with your business digitally connected to your customers, partners and supply chain.
Nio provides modern, easy to use apps for all aspects of your business - CRM (e-commerce, sales and marketing), HRM (talent and workforce), ERP (service, operations and finance) and MRP (manufacturing & maintenance) all on a secure, integrated cloud platform.
Nio is cloud-based, so it's ready to adopt without needing any additional hardware as it runs on any computer, tablet or smartphone.
Integrated eCommerce, digital marketing and sales with automation.

Specialised wholesale distribution
industry solutions.


Flexible, integrated, and extensible manufacturing ERP software.


Cellmaster

Nio Cloud Solution including POS, Inventory, Employees, eLearning, Helpdesk apps and integration with Microsoft Dynamics.
Ian Mulhurn

| General Manager


Interchem

"What I like best about Nio is their good support. Changing out all of our systems was a tough transition and from day one we were given all the support needed and more. This made the transition a lot easier."

Brian Marsan

| General Manager


Lange Trinidad Ltd.

Lange Trinidad Limited is one of Trinidad and Tobago's leading distributors of automotive spare parts. They deal in high quality brands Lubricants, Automotive Batteries and Spare parts.

Kevin Singh

| Sales Manager

Previous
Next
Download our Digital Transformation Insights - Buyers Guide for eCommerce, Manufacturing, ERP, CRM, Accounting